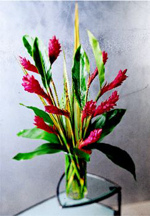 Gifford's can provide your company with weekly fresh flower arrangements for your office or lobby, for remembering employees' birthdays or rewarding a job well done. We can also provide flowers for corporate events and parties.
Corporate accounts can be opened with any of the following credit cards: Visa, Master Card, American Express, Discover Card, Carte Blanche, and Diners Club.
Call 1-800-875-9193 for more information.